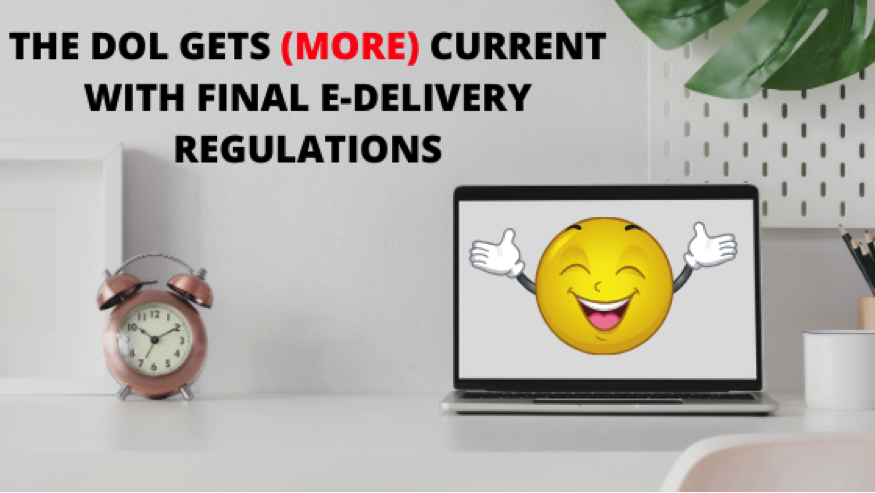 On May 21, the Labor Department unveiled a new safe harbor for electronic disclosures making it easier for employers to disseminate 401k notices to plan participants. The new safe harbor is known as the "notice and access" safe harbor method.
Here is a quick overview:
The final rule continues to require that each individual, with respect to whom a plan administrator intends to rely on the new safe harbor, be furnished a notification that some or all of the plan's covered documents will be furnished electronically to an electronic address. The initial notice is required to be provided ON PAPER and contain a statement of the right to request and obtain a paper version of covered documents and of the right to opt out of receiving covered documents electronically.   The initial notice must be provided free of charge along with an explanation of how to exercise these rights.
Who May be Provided Electronic Disclosures:
1) any participant, beneficiary or other individual who either provides an email address or mobile computing device (eg. smartphone) number to the plan administrator; or
2) any employee who is assigned an email address by his or her employer for employment-related purposes, including but not limited to the delivery of required disclosures.
The ability for plan sponsors to now send notices and disclosures to personal email addresses is a major improvement to the current safe harbor. The new rule also allows your plan recordkeeper to collect the participant's personal email address for you during the enrollment process. For plans with auto-enrollment, where many participants do not complete an enrollment application and may never register for the recordkeeper website, it will be important that the plan sponsor have a protocol for gathering the personal email addresses. We will work with our plan sponsor clients and recordkeepers to develop a protocol that works best for them.
Notice of Internet Availability
The final regulations require plan administrators to send a notice of internet availability to covered individuals every time a disclosure is made available on the recordkeeper or employer' website (see the timing rules below). The notice itself is delivered electronically and must be sent to the email address or smartphone number provided to the plan administrator or their customary work email address.
Combined Notice of Internet Availability
In some instances, a combined notice of internet availability may be used for some of the more common disclosures, such as summary plan descriptions ("SPDs"), summary of material modifications ("SMMs"), summary annual reports, safe-harbor notices and investment-related disclosures that do not require action by the covered individual by a specific deadline. The combined notice must be provided annually and no more than 14 months from the prior years notice.
Event Specific Notice of Internet Availability
The combined notice of internet availability does not, however, apply to disclosures that are event-specific, like notices of blackout periods, claims determinations or qualified domestic relations order determinations. For these required disclosures, a separate notice of internet availability must be provided for each disclosure under the same timing rules for the notice being provided.
The final regulations are effective July 27, 2020
These developments are a welcome sign for the American retirement system and for small businesses.   For the past several years we have been part of a group of retirement plan consultants that meet on Capitol Hill to lobby Congress about ways to make retirement plans more accessible to and efficient for American workers. Easing the administrative burden and cost on employers through the expansion of e-delivery has been a drum that we have beaten heavily since we started attending the meetings in 2016. It is great to see the progress and we look forward to helping our clients understand, comply and benefit from the new rules.
We will be working with recordkeepers and TPA's in the coming weeks to determine how their systems and processes will be updated to help plan sponsors comply with and benefit from the new rules. We will then work with each our plan sponsor clients to implement the new procedures so that they can immediately put it to work ahead of the busy notice season in the back half of this year.
In the meantime, if you have any questions or want to discuss further please reach out.
301.245.3587