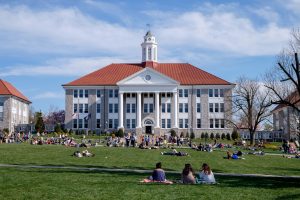 Back to school season is in full swing. It's time to swap the beach chairs and boogie boards for backpacks and textbooks. For high school seniors and their parents/guardians, the coming fall semester also marks the time to get laser focused on the college application process. It's time to narrow down the list of schools they'd most like to attend and meet those required application deadlines. This is no doubt a stressful period for many of these soon-to-be graduates as they hope all their hard work and extracurriculars were enough to gain admission to their wish list schools. And while they anxiously wait for acceptance letters to arrive in the mail, their parents and guardians brace themselves for the hefty tuition bills that are soon to follow.
KEY TAKEAWAYS:
Those with a college degree enjoy far more job security and earning potential over the course of their careers relative to their peers who did not finish college
College costs have risen dramatically over the last several decades. Commit to saving early and often for your child's education.
The college application process is complex and often overwhelming. Families must educate themselves on all aspects of the process in order to get the most out of the college experience.
Is a college degree still worth it?
In recent years, we've started to hear whispers from certain corners of the internet and media questioning if a college degree carried the same value as it did in decades past. The thinking goes that with so much information available online and the ability to learn from anywhere, do we really need a four-year degree in order to be prepared for the "real-world"? From an income and job security perspective, the answer continues to be a resounding yes! As of June 2021, the unemployment rate for Americans with at least a college degree was just 3.5% while those with only a high school education faced double the unemployment rate at 7%.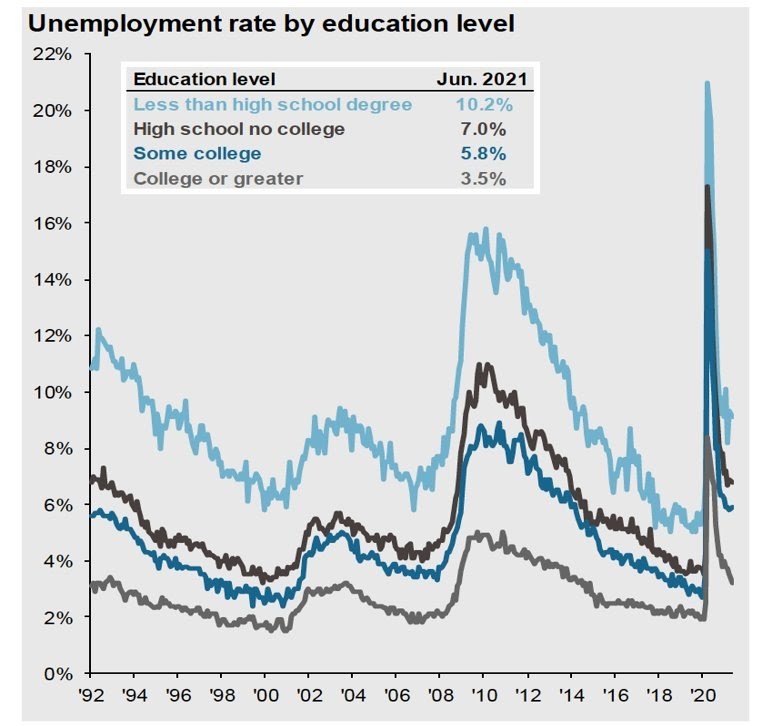 Not only do college degrees continue to offer workers a higher degree of job security, they also provide us with the opportunity to earn higher wages throughout our careers. Recent data suggests that those with at least a bachelor's degree on average earn almost 90% more annually than their peers with just a high school diploma. Further, those that went on to earn a professional degree (MBA, JD, MD, etc) on average make nearly 3x as much as individuals without any college education.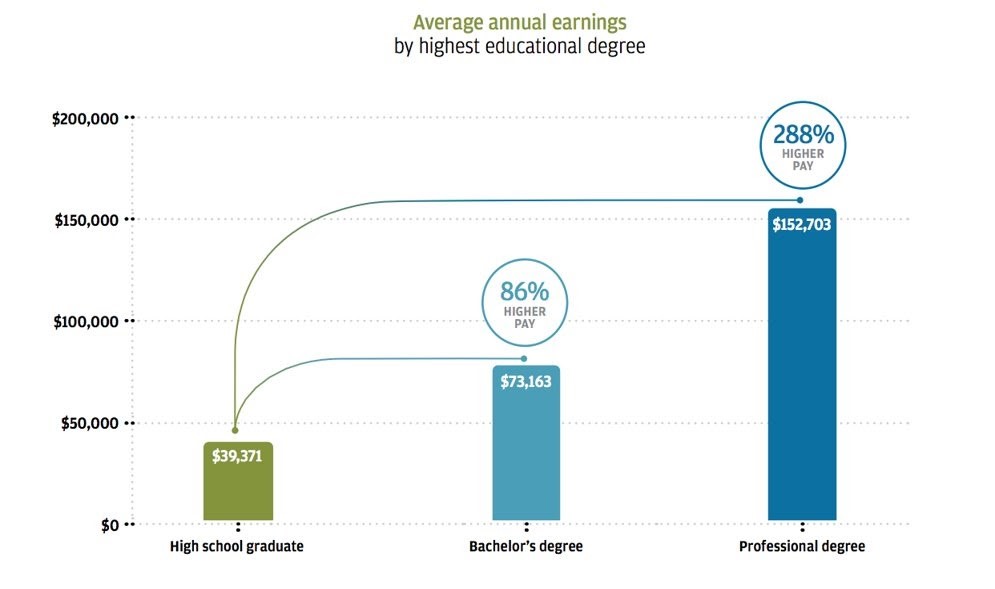 So if we allow the data to be our guide, it's clear that a college degree at the very least sets us up for greater job security and earning potential over the course of our careers relative to those who did not attend college. If you have a child that is undecided on whether or not they want to pursue college, these figures could be helpful in the decision-making process. In the mind of a 17-18 year old, the idea of college can seem like a burden they'd rather not take on. Maybe it's too expensive or too demanding or they're unsure of what they want to pursue in life. All very fair challenges to consider but they should also be aware of the differences in long-term earnings and opportunity potential and how a degree can help them achieve their goals and dreams later in life.
Tuition costs continue to rise
While having an undergraduate degree can certainly set us on a safer career path, it does come at a cost. And that cost has been rising for the last forty years at an almost uninterrupted pace. Since 1983, tuitions have risen by nearly 6% a year which equates to more than 800% on a cumulative basis. This dwarfs pretty much any other household expense category that we have in our lives. By comparison, the average cost of a gallon of gasoline has risen by just 106% over that timeframe while home prices have risen almost 200%, according to BLS.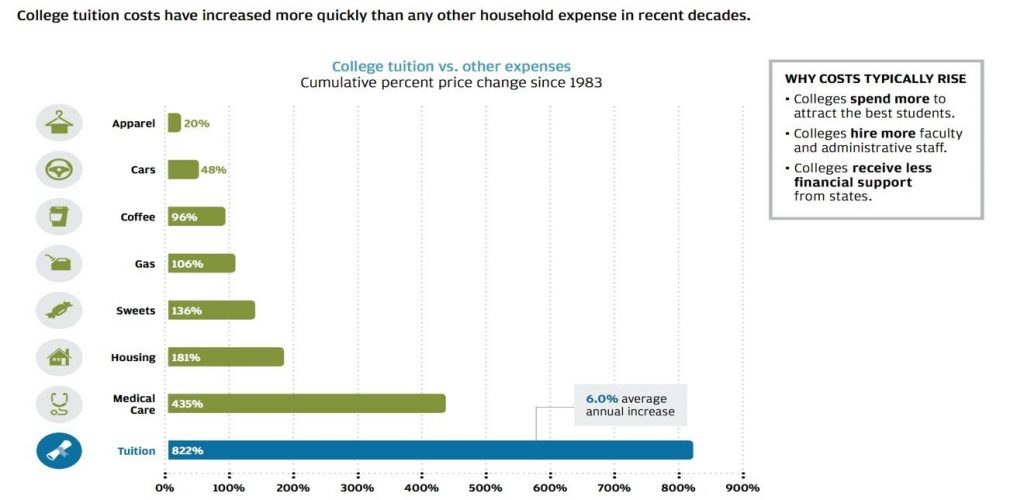 So we know that college degrees are still as valuable as ever when it comes to long-term earnings potential and career advancement but we have to counterbalance that with the fact that college costs have been rising uninterrupted for decades. If college is in your child's future, here are some things you should start thinking about today:
1. Don't wait to start saving for college
For parents, especially younger parents, saving for future college expenses presents both a challenge and an opportunity. The challenge being that at this point in life there are so many things competing for a spot in our budget. Saving for a home purchase, managing/reducing debt, perhaps we're paying off our own college debt, focusing on retirement savings, making sure that we have proper insurance coverage, all while trying to live life a bit and raise a family. Carving out some of today's dollars to fund education costs that are 10, 15, 18 years down the road can often fall in the "task for another day" bucket on our to-do list.
Today, the average total annual tuition cost for a public university is more than $22,000 and almost $51,000 for a private college. If we project those figures 18 years out using the historical 6% inflation figure, it could cost more than a quarter of a million dollars for public college and well over $500,000 to attend a private university for kids being born today. So what are we to do? If we have decided that education and college will be a priority for our children's future and we want to help/cover those costs, it is absolutely in our best interest to start saving early and often. By saving even just $100 a month (assuming a 6% annual return) starting at a child's birth, we can accumulate almost $40,000 by the time the child reaches college age. Also note the significance of when we are able to start saving. The older the child gets, the greater the contribution amounts required to make up for lost time.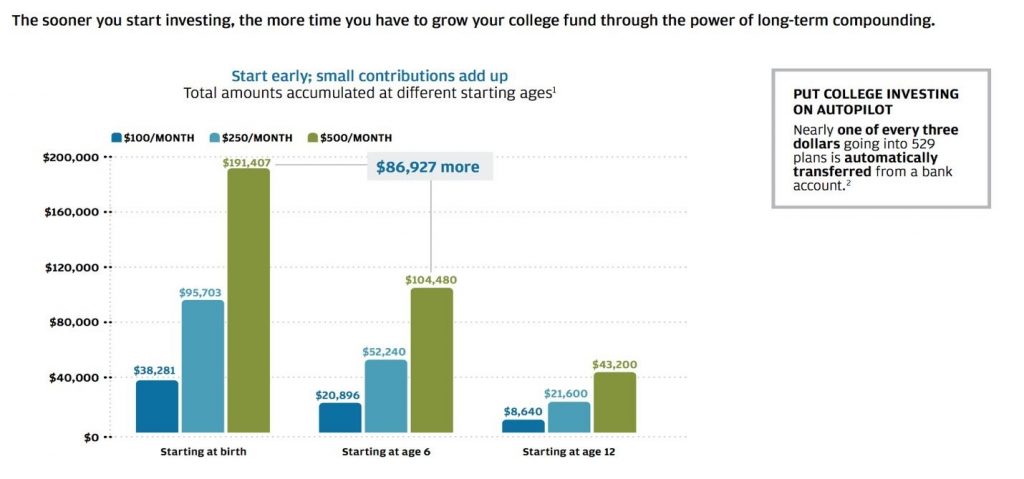 There are a variety of savings vehicles that can assist our college funding goals and we'll touch on them later in this post. What's important for parents that are just beginning to save for their children's education costs is to get an understanding of what they are realistically able to set aside while also meeting the funding needs of their other financial goals (retirement savings, home purchase savings, etc). Having this as part of a financial plan and budget that is updated regularly will help us stay super clear on what we are able to afford as we progress in our careers and, hopefully, climb the income ladder.
2. Understand FAFSA and financial aid eligibility
In a perfect world, our income and savings would be more than enough to cover the cost of college tuition for the kids while also funding all of our other long-term priorities and still having plenty left over to enjoy life. And for some of us, that will be the case. But for most, even those earning very high incomes, paying 100% of tuition costs out-of-pocket is simply not realistic, especially when multiple kids are in the picture. Enter FAFSA.
FAFSA stands for Free Application for Federal Student Aid and it is used to calculate a family's EFC (Expected Family Contribution) toward college expenses. FAFSA evaluates a student's financial state and determines which are eligible for financial aid based on the income, assets and size of the student's family. All high school seniors applying to college and students currently enrolled in college should complete the FAFSA on an annual basis while they are in school even if they will not qualify for need-based assistance. In addition to FAFSA, certain schools around the country (roughly 400 in total, mostly private universities) ask for a CSS/Financial Aid Profile to be completed. The CSS form looks at additional components of a family's income/assets to determine aid eligibility.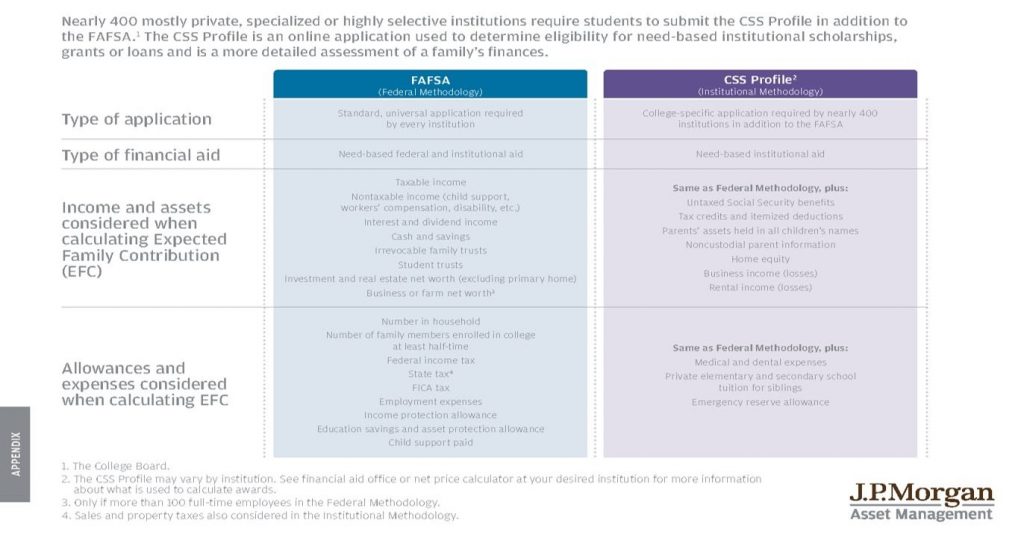 As mentioned above, the purpose of the FAFSA process is to determine an applicant's Expected Family Contribution (EFC) during each of their college years. The details of EFC are beyond the scope of this article but it's important to understand its role in determining how much federal financial aid a student might be eligible for. We have provided several links at the end of the article that help explain EFC in greater detail.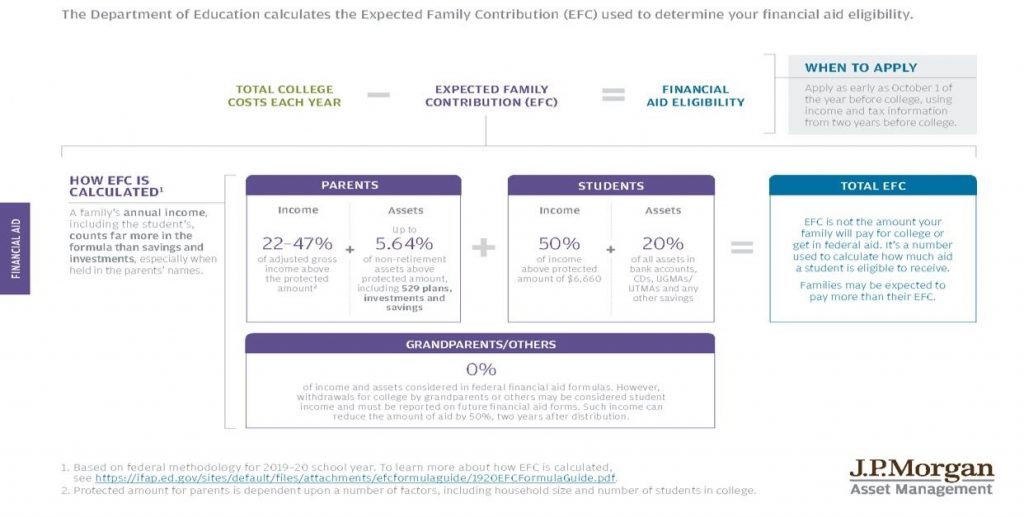 If you have a child in high school – not just a high school senior – it's recommended you get proactive and start learning about the FAFSA process, the associated deadlines and the resources available to you.
3. Apply for grants & scholarships
As your student works through the application process, we highly encourage that they research and understand the grants and scholarships they might be eligible for. According to the Department of Labor's free scholarship finder tool, there are more than 8,300 types of grants and scholarships that are awarded to thousands of students across the country on an annual basis. While they tend to make up a small piece of average college student's tuition payment-pie (as seen in the visual below), opting not to filter through the grant and scholarship database is essentially turning down free money. In 2020, nearly 50% of college students received some form of a needs-based grant while 58% of students earned a merit-based scholarship. There is a lot of tuition money out there for the taking, please challenge your student to search for it.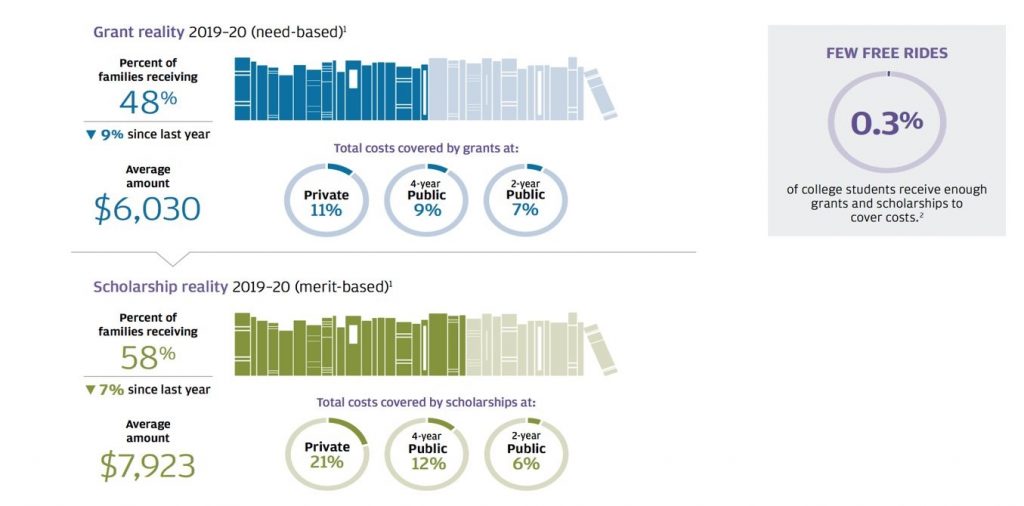 Another resource that we have recently found useful in the college planning process, especially when it comes to the topic of scholarships, is the book, The Price You Pay For College by NY Times "Your Money" columnist Ron Lieber. Published in early 2021, the book takes the reader through various phases of the college planning in hopes of removing some of the confusion and intimidation surrounding the process.
4. Know the different college savings vehicles
Above we stressed the importance of saving for college tuition and starting that saving as early as possible, it's also important that you understand the different vehicles available for you to do that saving. Historically, Coverdell Education Savings Accounts and Custodial Accounts were the main methods used to tuck away college funds but over the last couple decades 529 Education Plans have zoomed to the front as the most common way families save for college.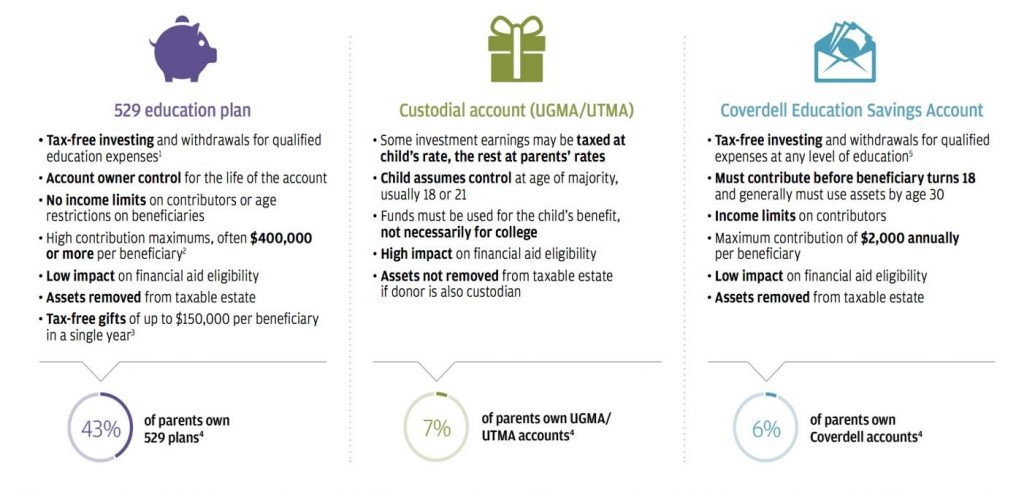 529 plans offer incredible tax-deferred investment opportunities in that when the money is used to cover qualified education expenses it does so entirely tax-free to you. Any investment gains in the account would not be taxed. This is a huge benefit to college savers. Additionally, depending on your state, you may be eligible for income tax deductions based on your 529 plan contributions.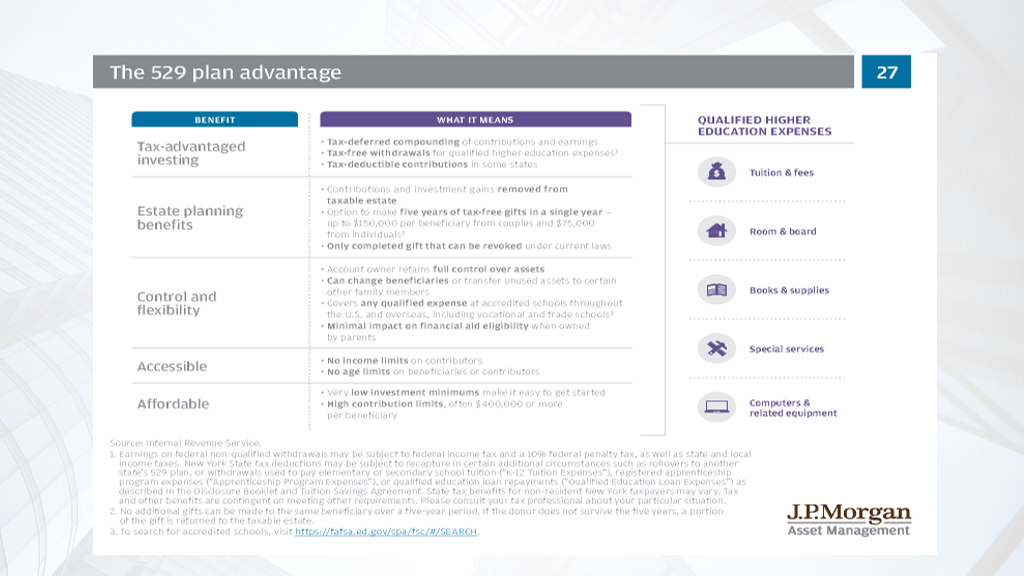 And just a few years ago, as part of the 2017 tax law changes, 529 Plan rules were updated to allow for withdrawals of up to $10,000 per year to be used toward private elementary and high school education costs. So 529s aren't just for college expenses anymore. Every state and the District of Columbia sponsors a 529 and while you do not have to use your state's plan, your state's 529 website would be a helpful place to start if you are looking for more information.
As if we hadn't stressed it enough, saving for college – in any amount possible, starting as early as possible – can be hugely instrumental in lowering the long-term burden of college costs. By putting funds away on a regular basis and allowing it to grow/compound over many years (especially on a tax-free basis) the sticker shock of tuition can be held somewhat in check.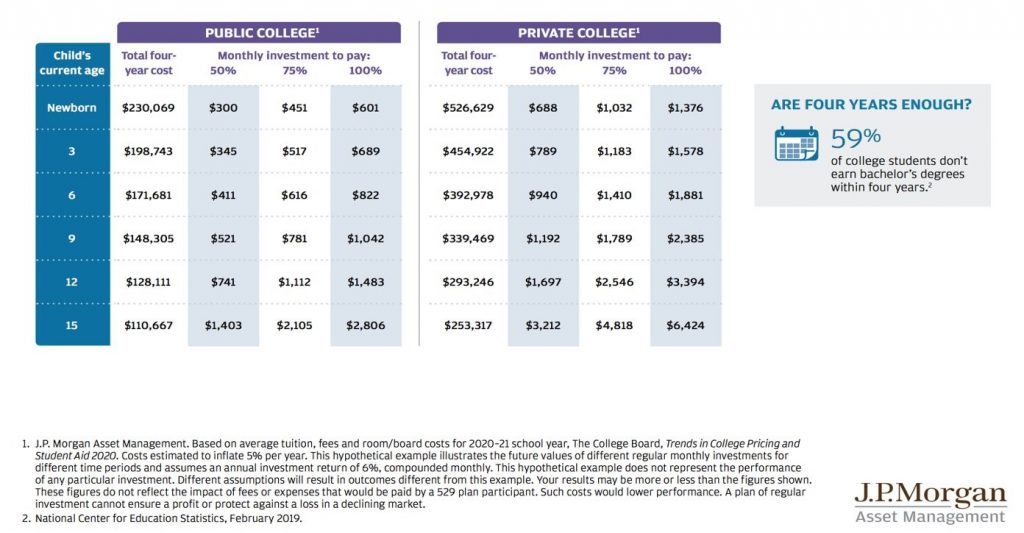 5. Consider federal student loan opportunities to fill any gaps
We'd love for the statistics to show that more families have been able to save enough to fully fund college but the unfortunate reality is that student loan balances have exploded in recent decades. The relentlessly rising costs of tuition have put a strain on many family budgets and left new graduates with a cloud of debt hanging over their heads as soon as they walk across the stage. As of 2019, parental debt from college loans has increased by 38% in just 4 years and the average college graduate leaves school with nearly $30,000 in student loan debt.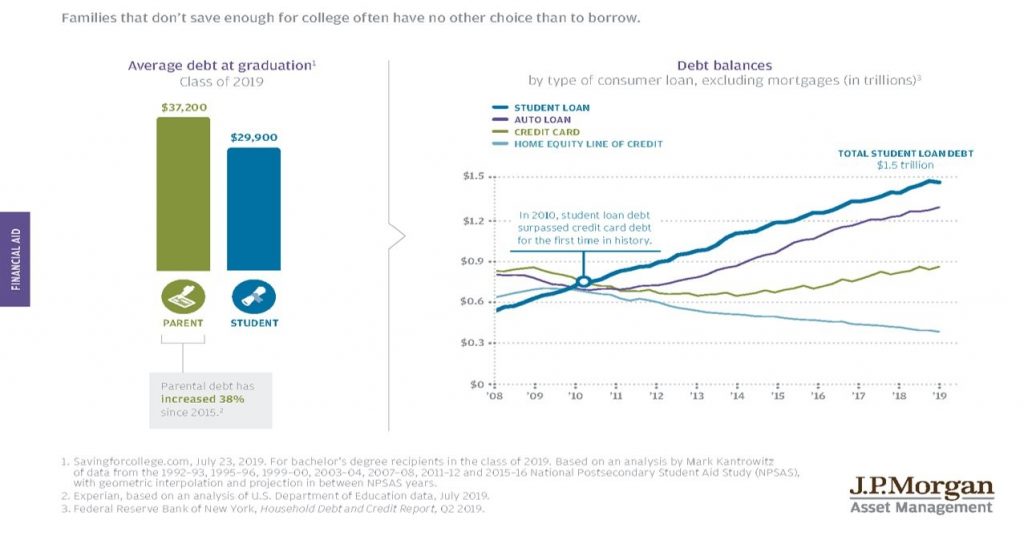 Today, borrowing for college is just part of the deal for most American families so it's important to know what loan options are available. The U.S. Department of Education's www.studentaid.gov is loaded with helpful explainers including the various federal loan programs available to students and their families. There are also nonfederal student loans made available by lenders like banks, credit unions and even schools and you'll want to understand them but you're best-off pursuing federal loan opportunities first.
Get educated, get started
Ron Lieber calls planning and paying for college the "most complex and emotionally fraught financial decision that many families will ever make" and if you have multiple children we might be able to remove every last ounce of hyperbole from that statement. The numbers can feel staggering and get even more overwhelming when considered alongside our other financial goals: saving for retirement, rising housing costs, ensuring we have proper insurance, and hopefully enjoying a decent quality of life along the way.
We have more resources and information at our disposal than ever before. Challenge your student to be involved in the process and to truly appreciate the cost of their college degree. Helpful links:

Understanding the key details of the college application process is the type of challenge that can make many of us want to bury our heads in the sand and wish it away. By gathering as much knowledge as possible we can hopefully gain the necessary confidence and clarity to make the best decisions for our college-bound children and the longer-term financial health of our families.
Disclosure: Nothing on this site should ever be considered to be advice, research or an invitation to buy or sell any securities. Full disclaimer.